Fast Food and a talking squirrel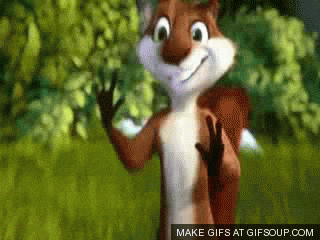 Why is it that kids act up when their friends are over. My oldest on a good day is a chatter box. When I say she is a chatter box, she is a chatter chatter chatter chatter chatter chattttttttttttter box. However, have a friend over and she turns into the squirrel who "doesn't" drink coffee. For those of you who have seen the movie Hoodwinked you get it, for those who haven't I will post the youtube clip. Really though, most days I can barely keep my shit together listening to the constant talk talk talk talk talk talk mom mom mom mom mommmmmmmmmmmmaaaaa. Not to mention 99 percent of the time it is nothing new, the same stuff I have litterally listened to on repeat for the past 7 years. However, when someone her age is around OMG!!!!!! I swear to God she becomes the poster child for medication (she is fine medically). It is literally blah blah blah blah blah blah blah blah blahhhhhhh looooooooooooooooook at me. I try my best to contain myself but holy frick kid breattttttth. I am pretty sure if I let her have friends over everyday I will have to take her to emerge for exhaustion and possible oxygen deprivation. It's nuts! If I spoke that much I would be single. I am hoping this excitedness is just because she does not have friends over all the time and I am assuming she doesn't do this at school since I haven't gotten a call from the school to "discuss" options. Although, if I did ever get that call I am seriously tempted to start talking the same way just to screw with them a little.
As I am trying to type this post, what feels like behind and beside and in front of me is that overly active voice box asking, "what are you doing, whats that, what are you typing, why are you doing that, why is it soo long, why can't I watch, I need a drink, what time is it, can you teach me to type, how long are you going to be doing that, can I help, mom I need a hug, I am tired, I am not tired, can I stay up, I love this show, can you come cuddle, MOM!" Help me............helpppppp.
https://www.youtube.com/watch?v=8ck8fY-haMc
Purely Bitter
Please reload